Scientific publication in internationally prestigious sources is an important feature that defines research universities. Hacettepe University has been in the first place in our country in terms of the number of research articles published for years. The number of publications of our university has increased steadily over the years and has exceeded 3,200 per year as of 2020. Hacettepe University has made a universal contribution to science with a total of 33,000+ research articles published.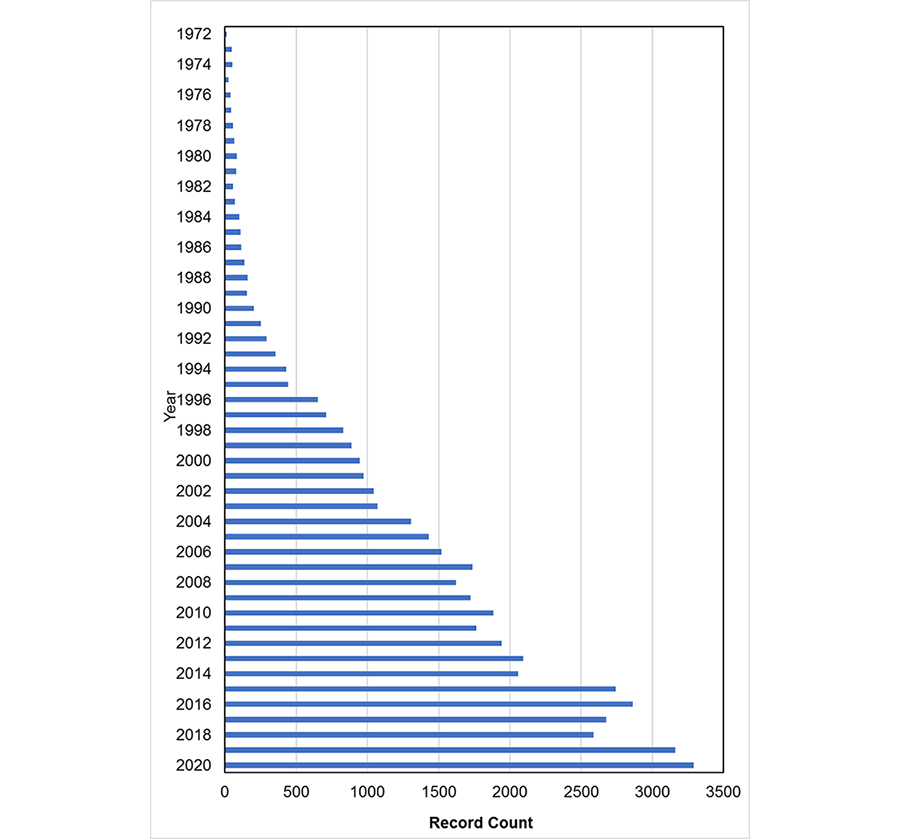 Change in the number of publications with the address of Hacettepe University by years (Source: Web of Science Core Collection)
Research Topics
More than 90% of the publications produced by Hacettepe University are in the fields of medicine-health sciences and science-engineering sciences. When the distribution of Hacettepe University publications by research areas is examined, it is seen that Pediatrics, Chemistry, and Engineering publications come in the first three places. Of the first 25 research areas focused on, 16 are related to medical-health sciences, 8 to science-engineering sciences, and 1 to social humanities. In the medical-health sciences category, pediatrics, oncology, neurology, pharmacology, surgery, cardiology, hematology, radiology, rheumatology, and immunology are among the most contributed research areas. Contributions made in the fields of chemistry, molecular biology, physics, materials science, mathematics, computer science, polymer science, food science and technology, crystallography and geology in the science and engineering sciences category, and the Social and Human Sciences category, education, psychology, economics, and sports sciences activities stand out.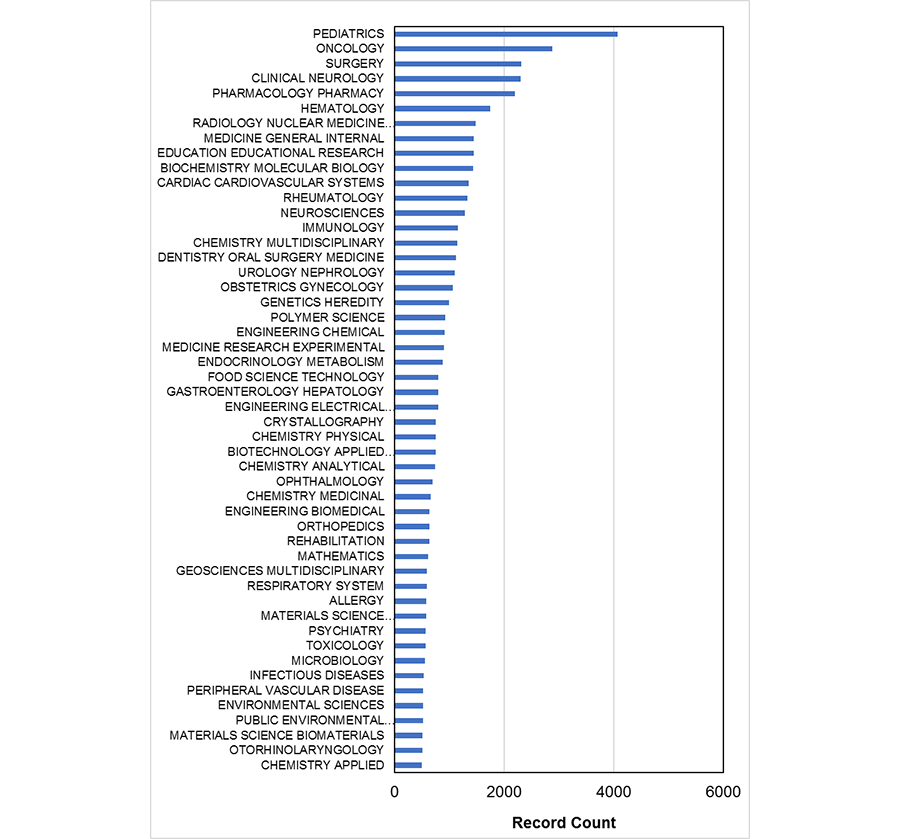 Distribution of Hacettepe University publications by science fields (Source: Web of Science Core Collection)
According to Journal Citation Reports data, the average impact factor of 11,997 journals in the index is 1.996. Hacettepe University publishes in journals above the world average in terms of impact factor. Hacettepe University ranks high among universities in our country in the ranking of highly cited publications (Essential Science Indicators-Highly Cited Papers). Hacettepe University attaches importance to publishing scientific research outputs in prestigious and high-impact journals. Our university is the first Turkish university to give more points to publications in journals in the Q1 category in academic appointment and promotion criteria.
Hacettepe University places particular emphasis on interdisciplinary cooperation. The interaction of interdisciplinary studies of Hacettepe University in 5 basic research areas that are closely related to each other in the subject network created with the keywords used in Hacettepe University publications scanned in Web of Science indexes are shown below.
Interdisciplinary collaboration network of Hacettepe University publications (2014-2016). Each node in the network map represents the relevant keyword. The size of the nodes indicates the frequency of the relevant keyword. Links between nodes show how often different keywords appear together in the same post.